Category: Classic Movie Reviews Created on Friday, 08 February 2013 22:54 Written by Live Music Head Hits: 272
Remembering: Guess Who's Coming To Dinner
American drama directed by Stanley KramerStarring Spencer Tracy, Sidney Poitier,Katharine Hepburn and Katharine HoughtonReleased December 12, 1967by Lisa McDonaldLive Music Head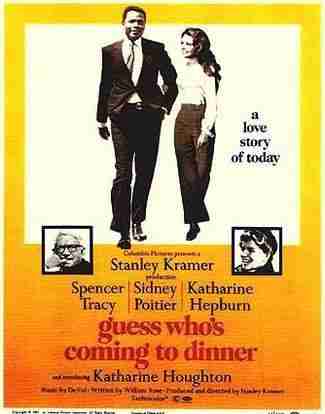 "A positive representation of the controversial subject of interracial marriage,which at the time of the film's release was rare,considering it was still illegal in most of the United States."
– Wikipedia
The film stars the ever-charming, well-spoken and debonair Mister Sidney Poitier... and who the hell wouldn't fall in love with him, black, white, red or blue? But it's Katharine Hepburn who steals my heart in this movie.
Set in San Francisco, Christina Drayton (Hepburn) makes her first appearance in the film when she welcomes her daughter (Katharine Houghton) home from Hawaii, listening intently while her only child talks on and on about the most wonderful man she has met, and fallen in love with. Houghton is Hepburn's niece in real life, and this is her first major acting role.
Tears well in Christina's eyes. And it's the welling of her tears that is a constant throughout this picture. I believe the tears weren't only because the story is moving and heart-warming, but I believe the tears were caused by the love of Hepburn's real life, Spencer Tracy, who plays her husband Matt in the film. Apparently the filming ended just 17 days before Tracy's death, and Hepburn never saw the completed picture stating the memories of Tracy were just too painful. The film was released six months after his death.
One of my favourite scenes is when Matt takes Christina for a drive in what appears to be a Valiant (a car my dad used to drive when I was a kid) and they pull in to Mel's Drive-In for coffee and ice cream. Surrounded by teenagers in much cooler automobiles, the refreshments are served in real dishware by a carhop (think Happy Days or American Graffiti). For anyone who likes the song Glory of Love by Billy Hill, it's another constant throughout.
The trailer for Guess Who's Coming to Dinner...