Category: Classic Movie Reviews Created on Wednesday, 06 February 2013 22:08 Written by Live Music Head Hits: 274
Remembering: Big Fish

American fantasy-adventure directed by Tim BurtonStarring Ewan McGregor, Albert Finney, Billy Crudup,Jessica Lange and Loudon Wainwright IIIReleased December 10, 2003by Lisa McDonaldLive Music Head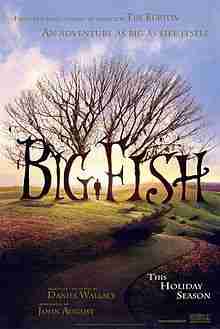 It's a story about a storyteller.
It's a story about the importance of telling stories.
From the imagination of Tim Burton, it's also a heartwarming story about a father and a son.
Albert Finney is absolutely adorable as Edward Bloom, the flamboyant travelling salesman who tells incredibly outrageous tales to anyone who will listen, much to the embarrassment of his son Will (Billy Crudup). Will grows up to be a storyteller himself, albeit a journalist more interested in truth. Jessica Lange plays the love of Bloom's life and Will's mother, and with such a lovely presence in the film, Lange brought more than a few tears to my eye. Circus life is also depicted in the film, with oh-so many colourful characters, such as Danny DeVito as the ringmaster; a ringmaster who Bloom would have you believe also turns into a wolf.
Set in Alabama, this really is an enjoyable story of tall tales; a film I may never have got round to watching if not for the cameo appearance by singer-songwriter Loudon Wainwright III. I seek out anything and everything ol' Loudo's involved in. And in this film, Wainwright plays Beamen, the barefoot Mayor of Spectre. And he's a might bit creepy at it too, what with that big toothy grin he wears while leading his flock of perfectly behaved little towns folk in a hoe-down of ring-around-the-rosy. Steve Buscemi plays his poet pal Winslow. And with the banjo player sitting on a porch rocking chair, plucking, brings both Deliverance and The Stepford Wives to mind.
The trailer for Big Fish...